Change of plans! Outages are widespread. With no concrete timeline for restoration, we are closing today, no virtual learning. We will likely have to add a day to our year; more info on this to come. Say safe+warm today, and we hope we can get back to a normal day tomorrow!

Due to the effects of the storm, we are having an e-learning day. This is the most unconventional e-learning day in our history. Teachers will do their best to post lessons as usual. Teachers will communicate if they are available for the live learning or if they are not available due to power outages. Please be patient as we navigate today together. While not ideal, we hope that we can continue learning today!

Due to the freezing rain, we're starting with a two hour delay schedule today. Stay safe, and we'll see you soon! #Apride

Happy Presidents' Day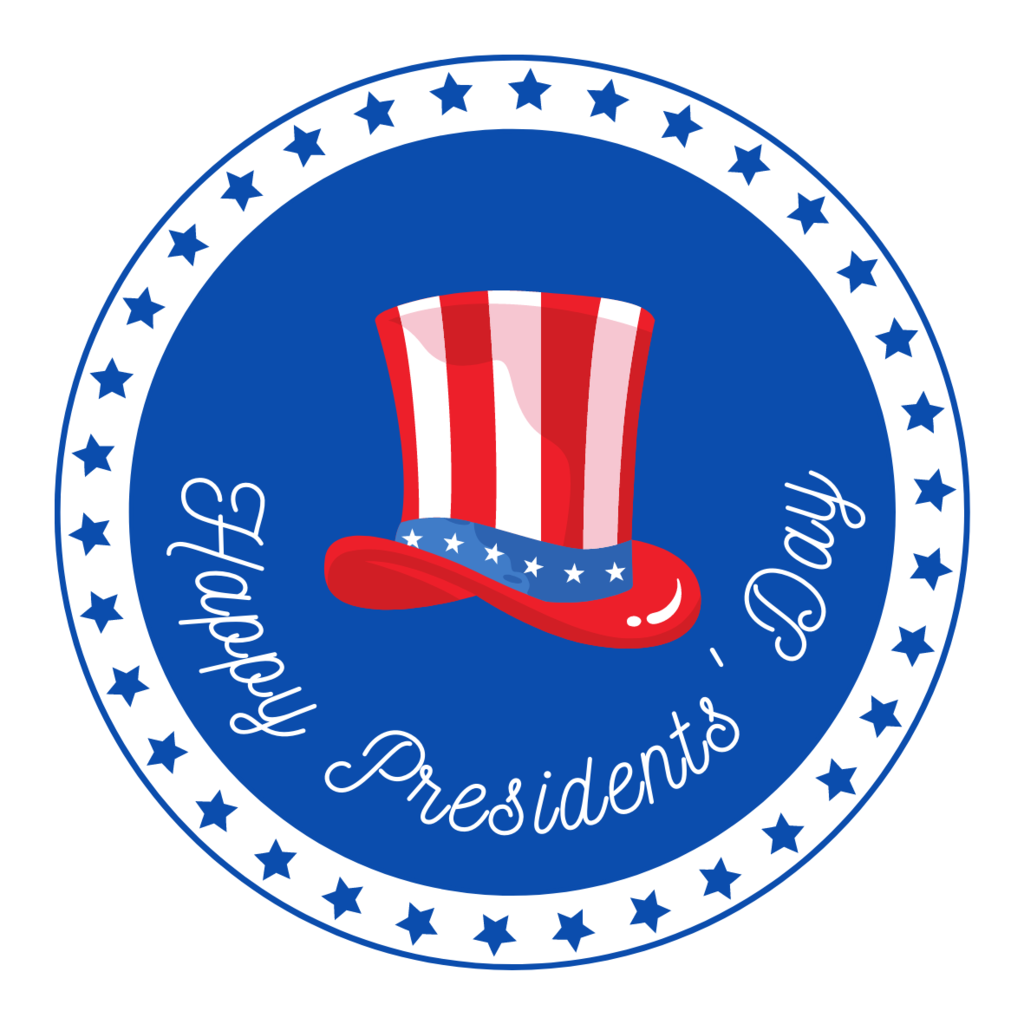 The state legislature has limited Indiana schools to three self-paced eLearning days like we are used to completing. On January 26th, we used our final self-paced day. Moving forward, all eLearning days must include live learning, with teachers interacting with students via Google Meet. The graphic shows the ways a student is counted present on a live learning day.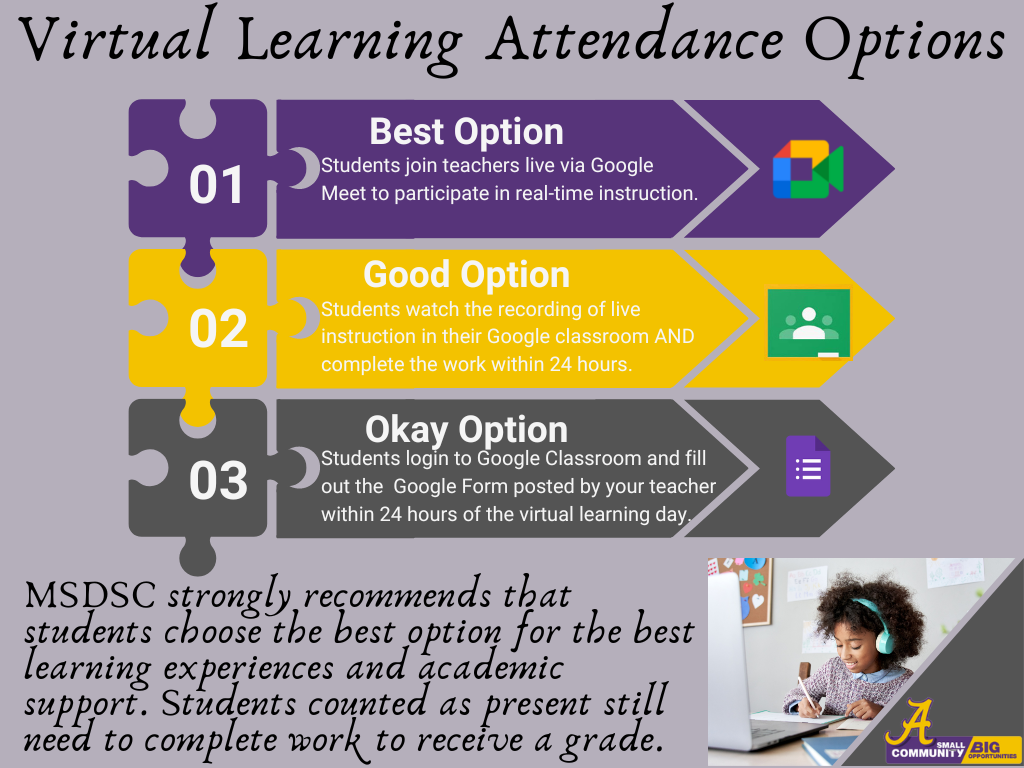 We are on a 2-hour delay schedule today due to the slick road conditions this morning. stay safe and we'll see you soon! #Apride

We will be closed today and using our third and final self-paced eLearning day due to the slick road conditions! Stay warm and safe! #Apride

We will start our day tomorrow on a two hour delay schedule. We will reassess road conditions in the morning. Stay safe and warm! #Apride

MSD of Steuben County is on a two hour delay schedule today due to the fog. Stay safe, and we'll see you soon! #Apride

The state legislature limited Indiana schools to 3 self-paced elearning days (like we are used to). After the 3rd day, all elearning days must include live learning, with teachers interacting with students via Google Meet. We have used one self-paced elearning day so far.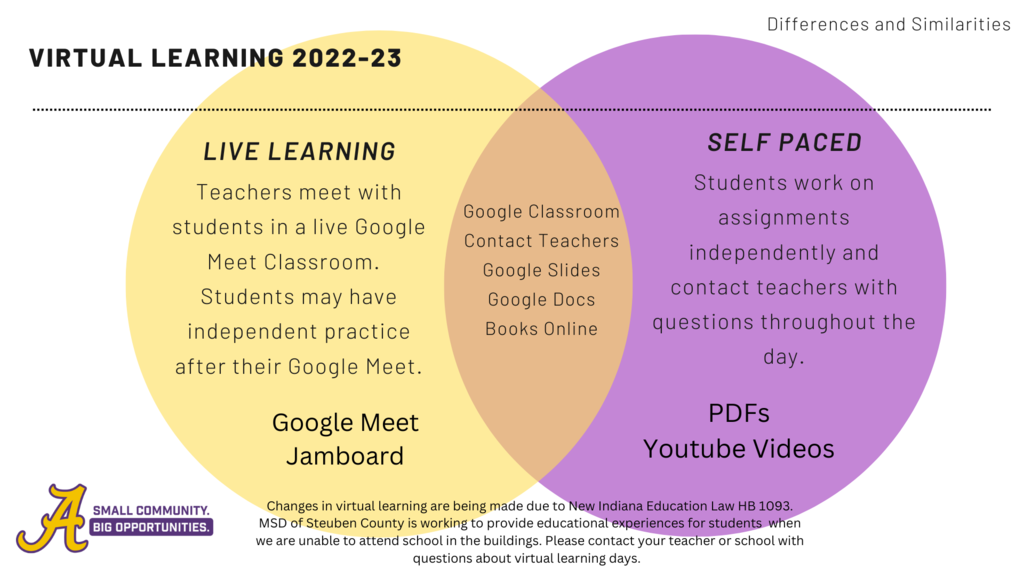 Earlier today, Angola High School was made aware of a possible threat made toward surrounding schools in the Steuben County area through social media. AHS School administration, the school resource officer, other Steuben County school administrators, along other local authorities immediately investigated the alleged threat. During the investigation school administration and law enforcement authorities learned that the alleged threat was not a viable threat and that the schools were safe and secure. Further investigation later revealed that the threat did not originate from any students at Angola High School or MSD of Steuben County. AHS school administration has been notified that the origin of the threat has been located, and local law enforcement successfully addressed the situation. Please know that all MSD of Steuben County Schools are safe, and we look forward to seeing everyone at school tomorrow morning.

ACE Academy students help set up for tomorrow's Chamber event, Winter Wonderland! #smallcommunitybigopportunity #winterwonderland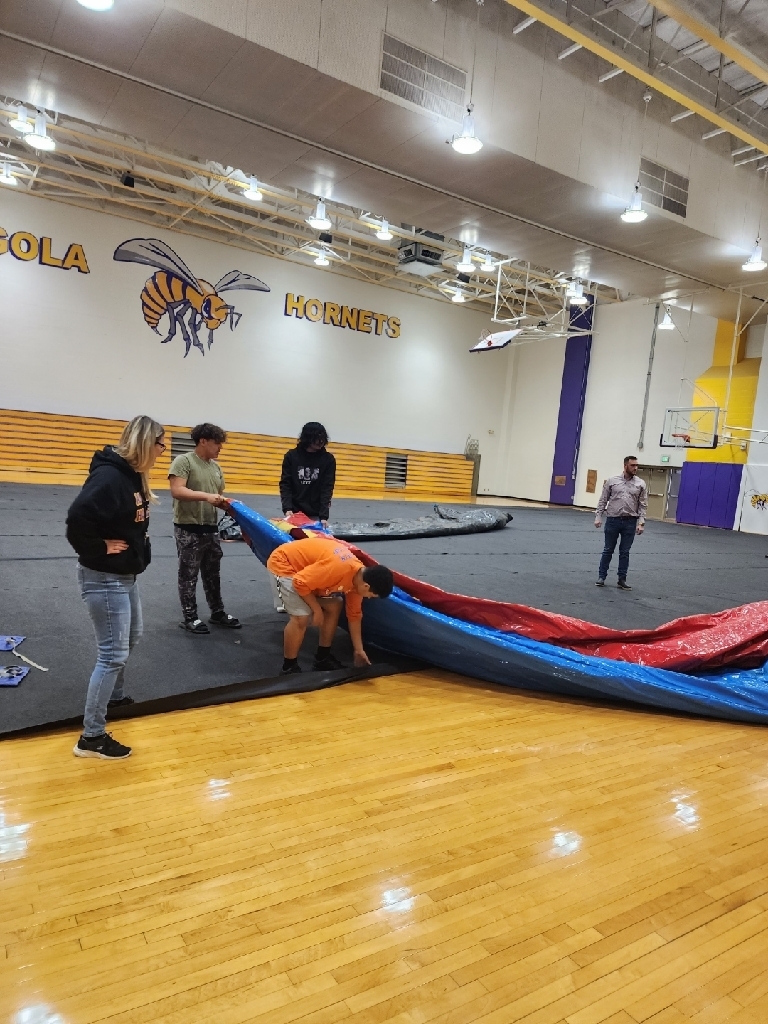 We are excited to share about our community partnerships to benefit students, including our new partnership with Trine University to provide a new graduation pathway that includes dual credit courses and industry recognized technical certifications! #Apride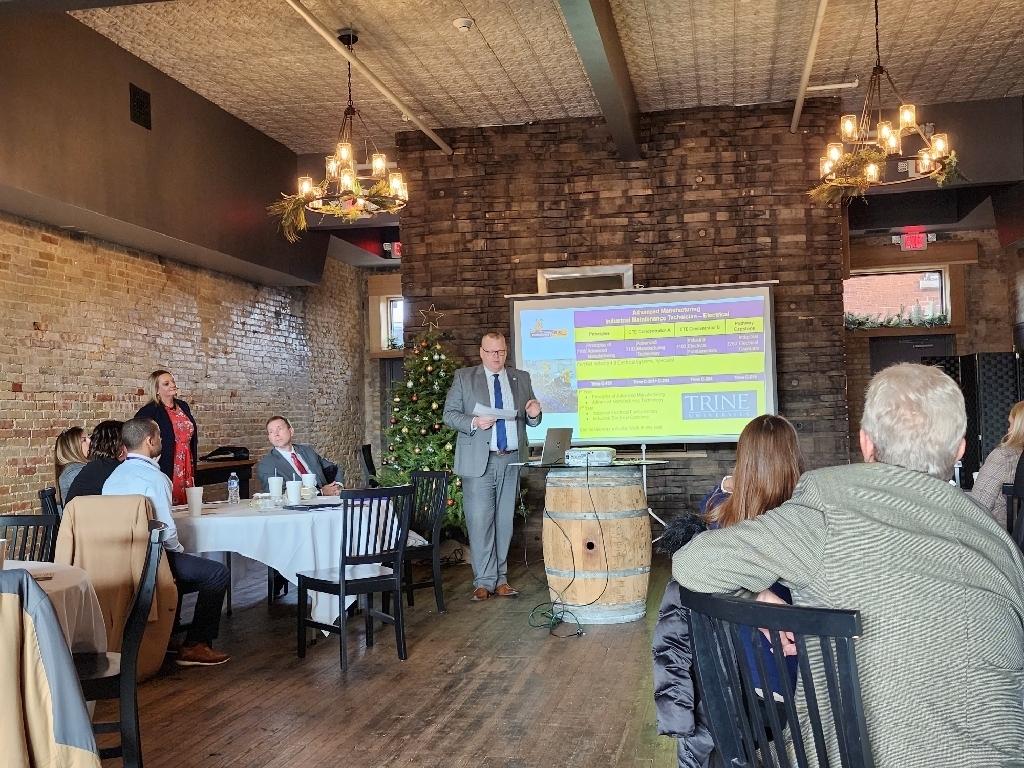 We are proud to highlight some of the opportunities the MSD of Steuben County provides our students as the guest of the Angola Area Chamber of Commerce lunch and learn this month! #Apride

Angola wins first in Cyber-Hunt event at Techfest 2022 Winners :Drake Webber, Johan Carlo Mina, Coaches: Emma Thiess and Tracy Creager (not pictured)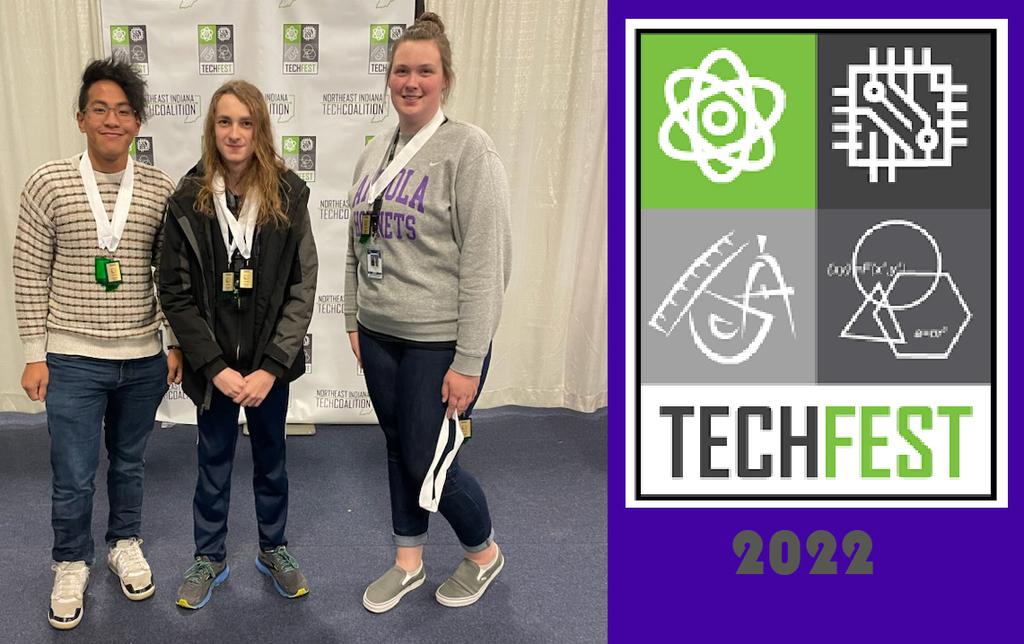 Angola High School Students participate in Techfest 2022 in Fort Wayne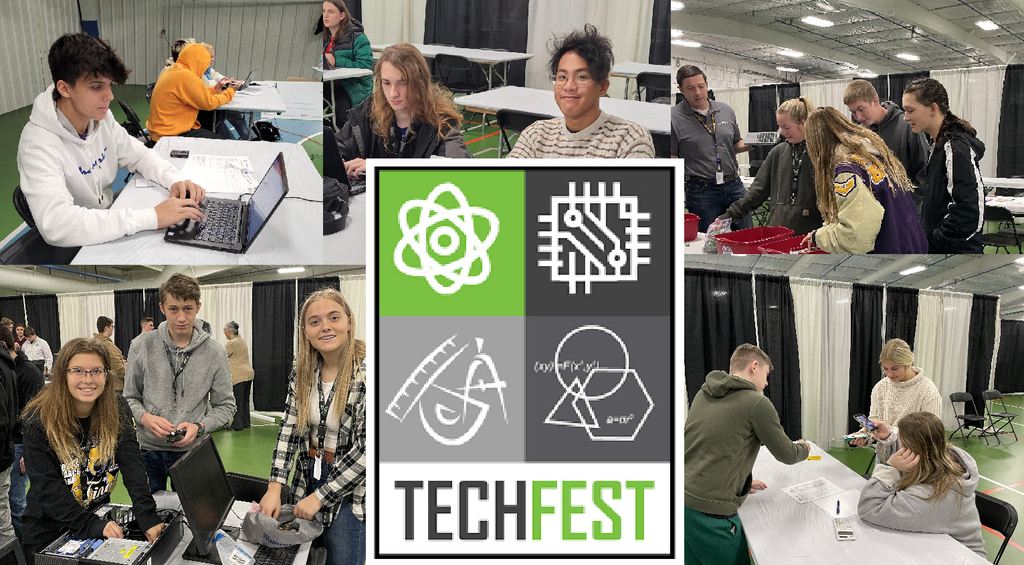 We are constantly focused on growing our students. We had a great presentation from Mrs. Brandt on how Hendry Park is using their data room to focus on the needs of every child. #APride

This fog is not lifting! We will have an e-learning day today. This will be a traditional e-learning day, with assignments posted to Google Classroom. Teachers will be available for help and questions between 9:00 and 3:00.

We are on a two hour delay schedule today due to the dense fog in the area. Stay safe, and we'll see you soon! #Apride